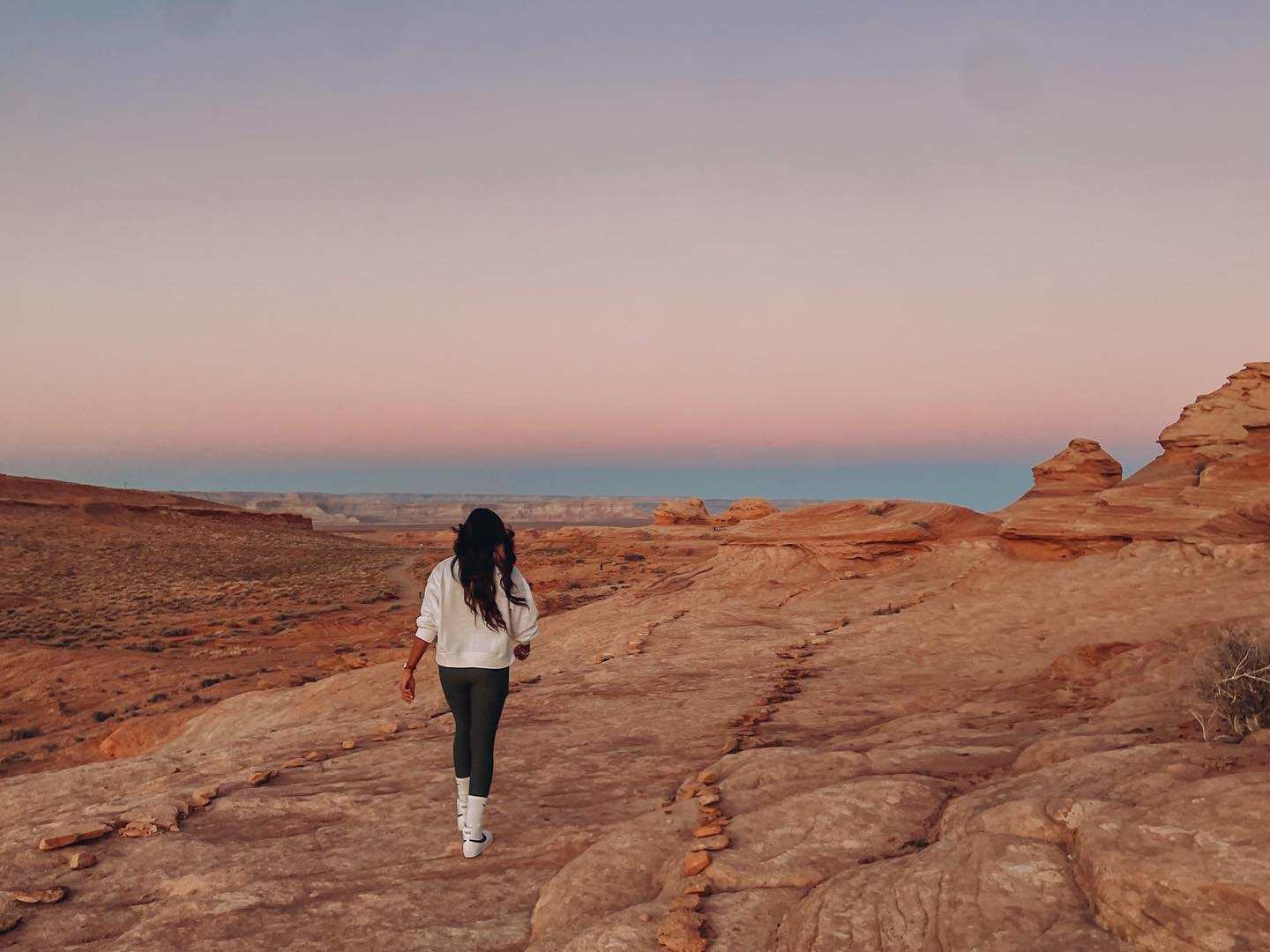 Discover Page's Hiking Trails
Whether you're interested in a short, leisurely walk, a challenging hike, or an invigorating bike ride, Page offers many trails for all skill levels. Here are some of our favorites.
Horseshoe Bend Trail
Horseshoe Bend is one of the most iconic and photographed landmarks of the Grand Circle, just 5 miles south of Page. This user-friendly trail is a relatively easy 20-minute hike each way on a flat-packed dirt path with a slight grade perfect for the whole family. Wheelchairs and strollers are welcome. Dogs are also welcome but must be on a leash. A section of the overlook is fenced for safety.
The trail is open year-round from sunrise to sunset. Entry fees start at $10 per vehicle; cash and cards are accepted. National Park and Federal Recreational Land passes are not accepted. The parking lot accommodates handicap-accessible parking, large vans, RVs, and buses. Bathrooms are located at the south end of the parking lot.
Distance: 1.5 Mi / 2.41 Km Round Trip
Elevation Gain: 137 Ft / 0.04 Km
Difficulty: Easy
Located: Between Milepost 544 and 545 on U.S. Highway 89
The Rim Trail
The Rim View Trail, also called the Page Loop, is a 10.3-mile loop around Manson Mesa with vast views of Page's surrounding areas. The north side of the loop features views of Lake Powell and the Kaiparowits Plateau. The east side has vast views of Navajo Mountain, Tower Butte, Boundary Butte, LeChee Rock, and Dominguez Butte. Toward the south, you'll find great views of Lake Powell National Golf Course and part of the Echo Cliffs. On the west side of the loop, you'll see Glen Canyon and the Vermilion Cliffs on the horizon.
Mountain bikes and leashed dogs are welcome, and dog waste bags and trash cans are available in some areas of the trail. Motorized vehicles, scooters, skateboards, and horses are prohibited on the trail.
Distance: 10.3 Mi / 16.5 Km Round Trip
Elevation Gain: 475 Ft / 0.14 Km
Difficulty: Easy
Located: Page, Arizona
The Wave
Forty-five miles northwest of Page in Coyote Buttes North is the magnificent multi-colored chute cut into a sandstone mountain known as The Wave. You'll feel like you're walking in an abstract painting of sandstone carved by water and wind for thousands of years. The Wave is isolated and hidden away from civilization. A permit is required to enter; visit recreation.gov to apply to the advanced or daily lottery.
Distance: 6.7 Mi / 10.7 Km Round Trip
Elevation Gain: 1,233 Ft / 0.37 Km
Difficulty: Strenuous
Located: Coyote Buttes North, Vermilion Cliffs National Monument
The New Wave
The New Wave is an easy alternative if you can't make it to The Wave. Just outside of Page across the Wahweap South Entrance, The New Wave is a similar sandstone formation to The Wave. The trail is a relatively easy flat loop, great for the whole family. There isn't any signage, but the path is well-marked and easy to navigate.
Distance: 1.25 Mi / 2.01 Km Round Trip
Elevation Gain: 100 Ft / 0.03 Km
Difficulty: Easy
Located: Glen Canyon Recreation Area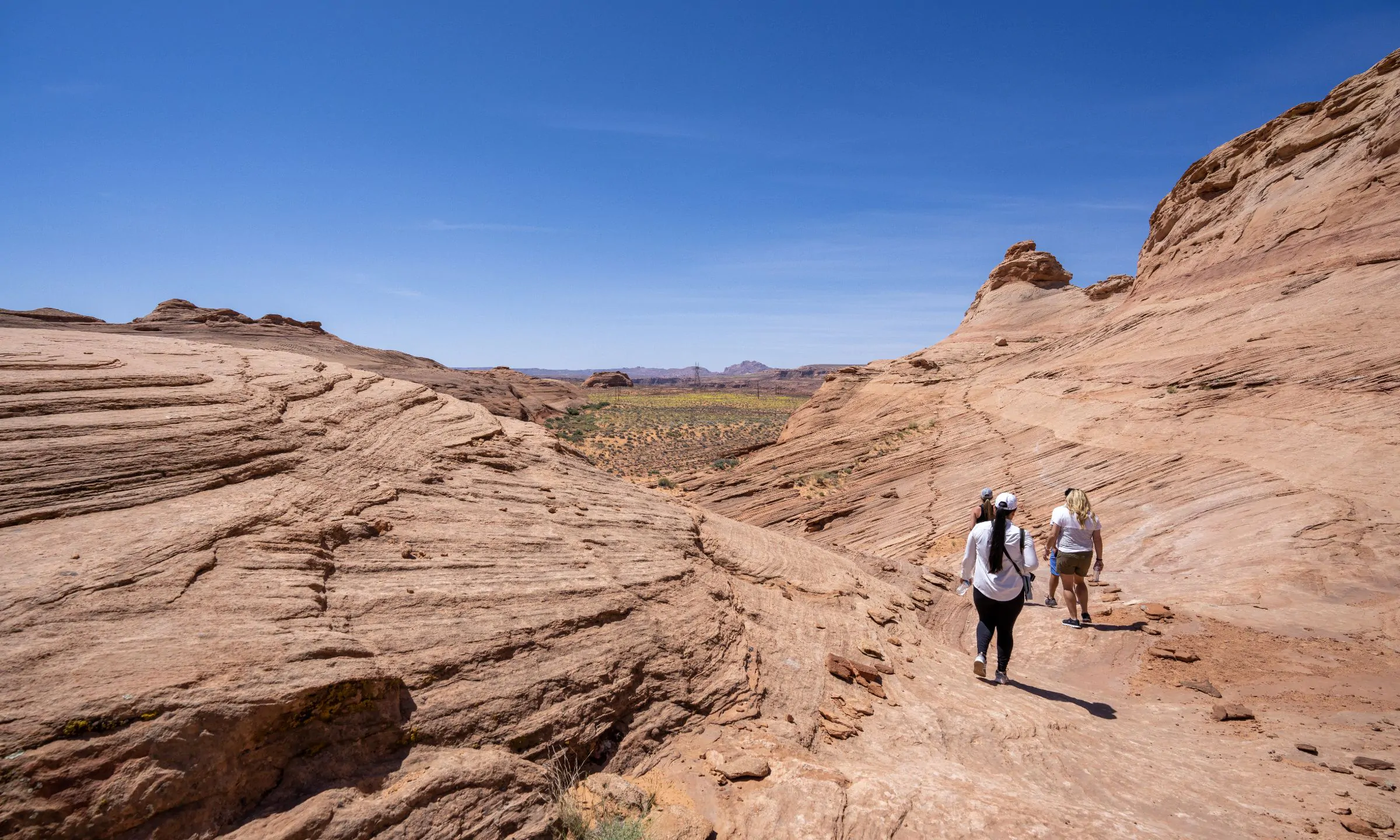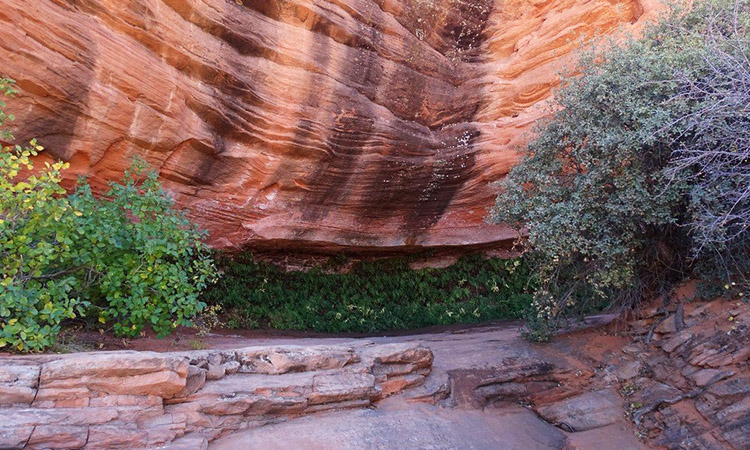 Hanging Gardens
The Hanging Gardens has a well-marked trail leading up to a cool and shady sandstone alcove full of vines, ferns, and orchids. It makes for a fun hike for the family, and leashed dogs are welcome. Wildlife thrives from the runoff water that travels down the sandstone wall. Lizards, birds, caterpillars, and even snakes can be found here. Please be mindful of wildlife and keep a safe distance.
Distance: 1.2 Mi / 1.9 Km Round Trip
Elevation Gain: 62 Ft / .01 Km
Difficulty: Easy
Located: Glen Canyon Recreation Area
Glen Canyon Dam Overlook
The Glen Canyon Dam Overlook has an amazing view of the dam and the Colorado River. Located just off US Highway 89, a short walk leads to a shaded overlook. Sandstone was carved to make stairs, but it is steep and can be slippery; please use the rails provided. Short-lived waterfalls can be seen after rainfall and make for a unique hike.
Distance: 0.2 Mi / 0.32 Km Round Trip
Elevation Gain: 39 Ft / 0.01 Km
Difficulty: Easy
Located: Overlook Drive, Page, Arizona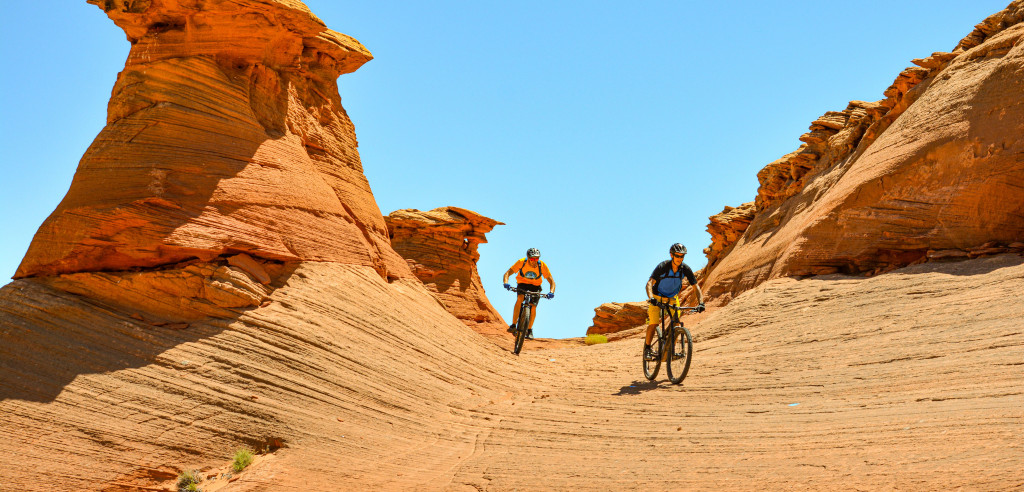 Red Mesa Rim Trail
The Red Mesa Rim Trail is Page's newest hiking and mountain biking trail. The 10.8 mile scenic loop has different sections that are rated green for easy, blue for moderate, or black for strenuous. Most of the easy and moderate sections are on the top of the mesa. Hiking or riding the black-diamond sections involves dropping down into the slickrock terrain east of the mesa.
Distance: 10.8 Mi / 17.3 Km loop
Difficulty: Ranges from easy to strenuous
Located: 2155 Coppermine Road
Explore Places to Bike In and Around Page
Biking is a popular recreational sport in and around Page, Arizona. With its varied terrain and stunning vistas, the Rim View Trail and Red Mesa Rim Trail are the perfect choices for cyclists of all levels who want to experience the natural beauty of the Southwest in the city limits of Page, Arizona. Located not far are a few other options, including Alstrom Point Road, an 8-mile sandy spur off Warm Creek Road leading to a spectacular overlook. Warm Creek Road is a popular albeit rocky road from Big Water, Utah, that gets extremely muddy when wet. The Crosby Canyon Road is 13 miles from Big Water to the lake and runs through a wash, and can be hazardous during storms due to flash flooding.
Be Prepared: Hiking & Biking in the Desert
Remember, you are in the desert where temperatures can be extreme and sudden storms can arise, so come prepared. Wear comfortable hiking clothing and footwear, and bring plenty of water, sun protection, and healthy snacks. Be mindful of the weather, and use good judgment. Temperatures can reach over 100°F / 37°C during summer months, and shade is limited. Avoid hiking or biking during the hottest part of the day.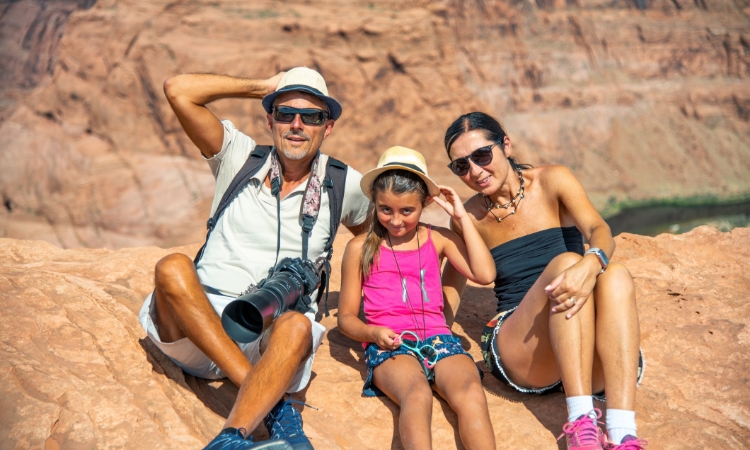 CHECK US OUT ON INSTAGRAM