Fun-Filled Water Adventures in Page
Page is a paradise for water lovers, with Lake Powell, the second-largest man-made reservoir in North America, and the Colorado River nearby. The crystal-clear waters, breathtaking scenery, and miles of coastline make Lake Powell a popular destination for swimming, boating, fishing, and water enthusiasts. Explore the lake and its hidden coves on a rental boat, houseboat, or personal watercraft, or even take a guided tour. The lake is a great spot for wakeboarding, water skiing, and tubing, as well as kayaking and paddleboarding. If you want to enjoy a peaceful adventure, try kayaking, fishing, or camping on the Colorado River.
Swim at Wahweap Beach
With its crystal-clear waters, sandy shores, and stunning views of the surrounding red rocks, Wahweap Beach is the perfect spot for swimming and sunbathing. The dedicated swimming area is located at Wahweap Marina, west of the Wahweap Main Ramp on Lake Powell, and requires a National Park Pass to enter. There are no lifeguards in the swim area, so personal flotation devices are recommended. Please also note that personal flotation devices are required for swimmers 12 years old and younger at Lake Powell.
Hike to Swimming Spots at Antelope Point
Though lacking in developed trails, Antelope Point offers rich opportunities for exploration. Enter with your National Park Pass to take a walk-a-bout through Slickrock formations west of the parking area near the launch ramp. Grab your swimsuit and sunscreen and head to Antelope Point for a memorable day of swimming and fun in the sun.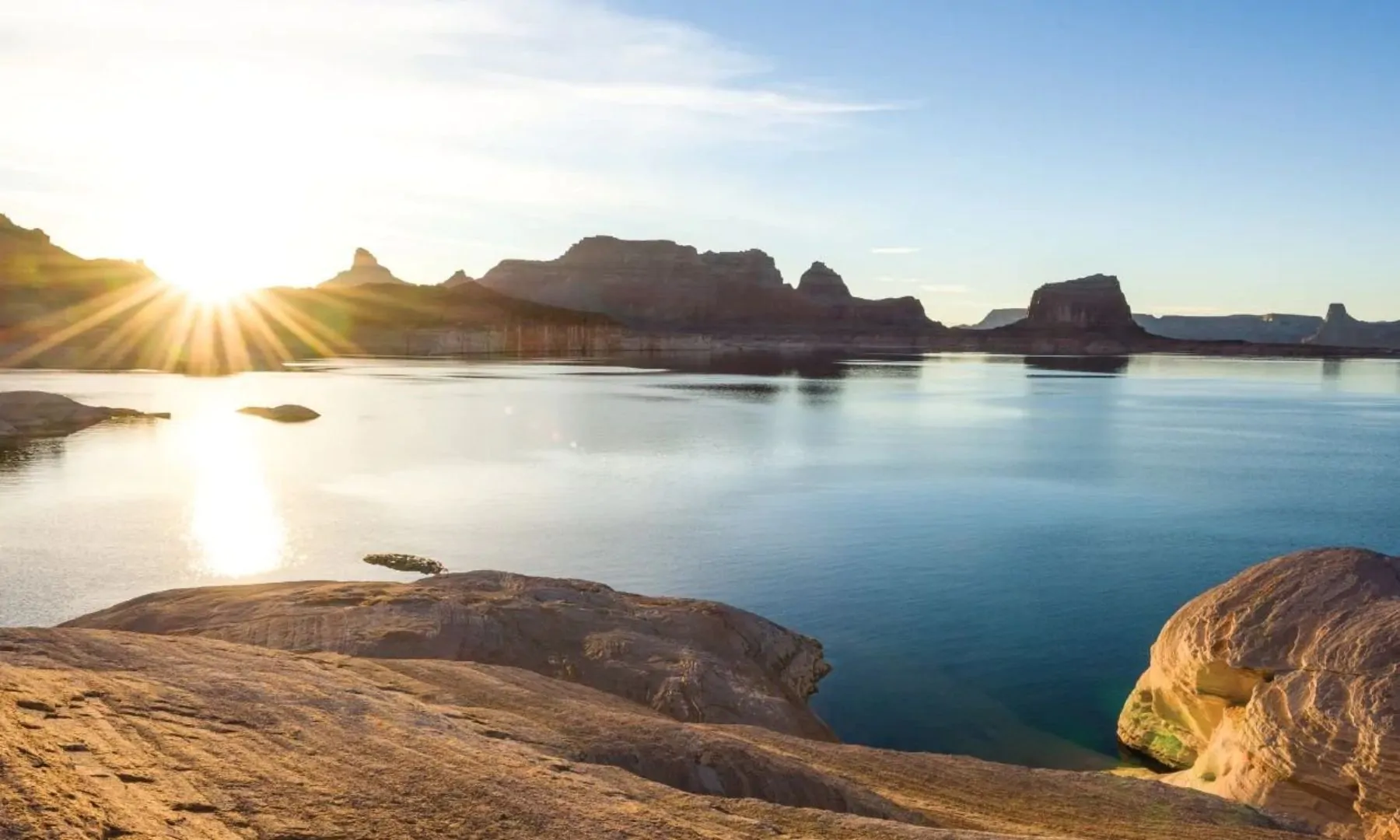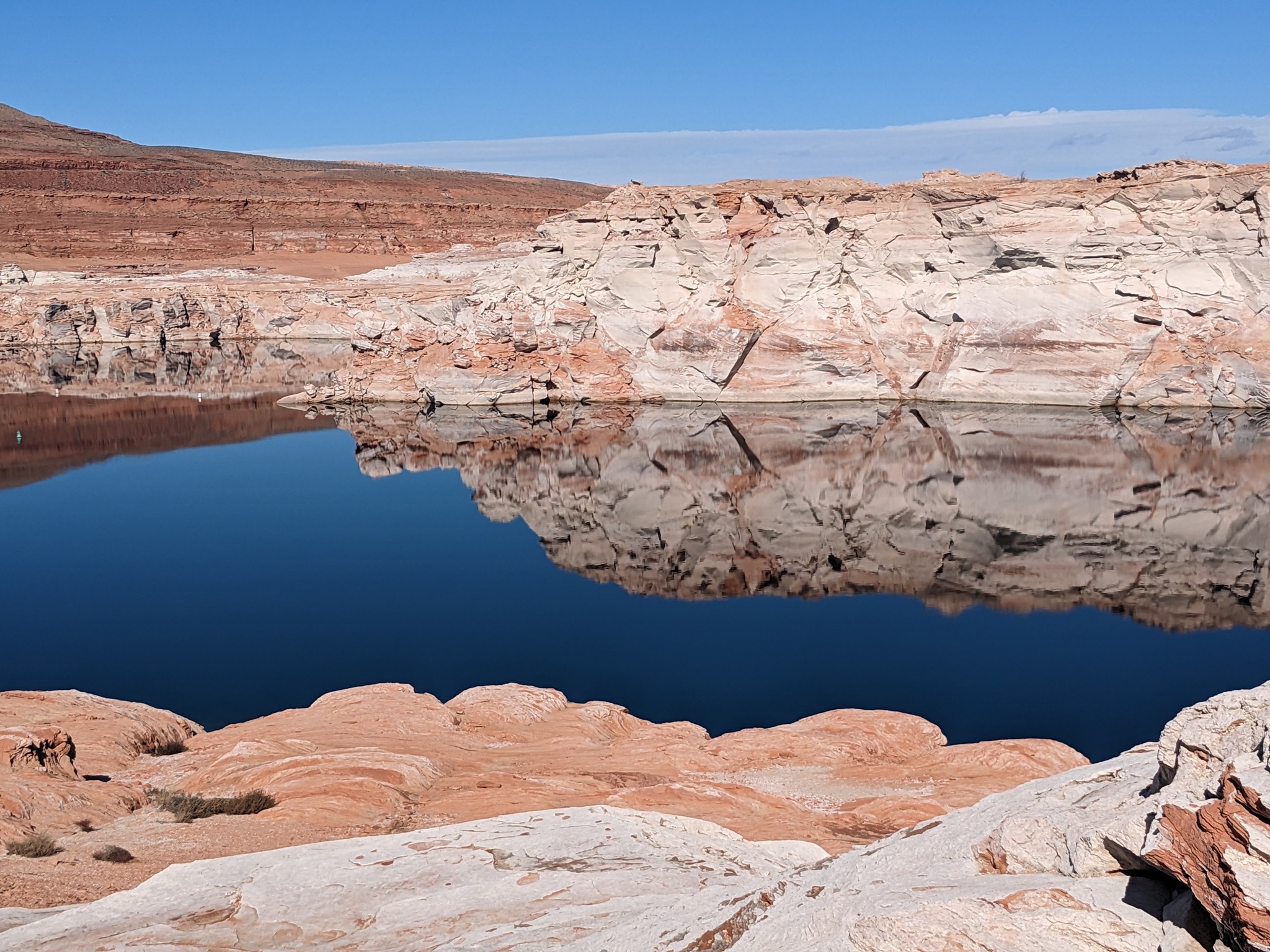 Hike to Swimming Spots at The Chains
The Chains is the closest lake access to Page, Arizona, and does not require a National Park Pass, so is a convenient place to explore. Head north of the parking lot for a self-guided adventure through Slickrock sand formations. Depending on the current lake elevation, lakeshore access is possible, and the lake is very deep at this location, so good swimming skills are required. The surrounding rock formations and cliffs provide a stunning backdrop, making it a great spot to swim, take photos or simply soak up the beauty of the area.
Paria Swim Beach
Dip your toes in the icy waters of the Colorado River, take in the views of the towering red cliffs, and relax on the sandy beach at Paria Swim Beach. The road leading into Lee's Ferry is a scenic drive that will take you right to the campground, boat launch, and beach areas. The land is part of the Glen Canyon National Recreation Area and requires a National Park Pass for entry.
Catch Dinner (Or Release)
Lake Powell is home to a wide variety of fish species, making it a diverse fishing spot. Some of the popular fish species you can find here include smallmouth bass, largemouth bass, striped bass, walleye, channel catfish, crappie, and bluegill.
Fishing in the Colorado River within the Glen Canyon National Recreation Area can be a rewarding experience for anglers. The towering cliffs and colorful canyon walls provide a stunning backdrop as you fish on the river.
Before embarking on your journey, review current National Park Service fishing regulations and watercraft regulations.