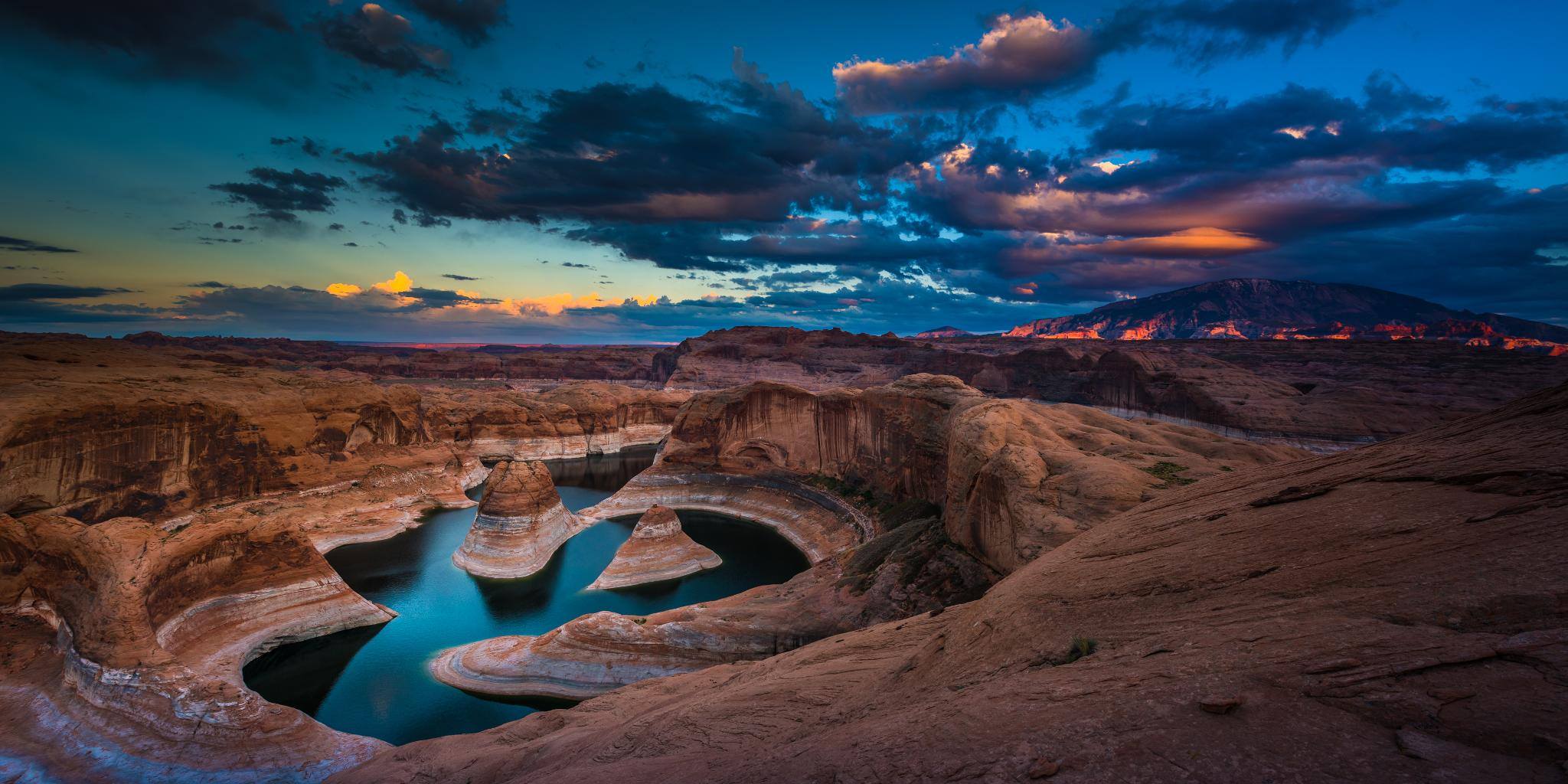 FREQUENTLY ASKED QUESTIONS
We've compiled some of our frequently asked questions to help you plan your visit to Page, Arizona. If you have more questions, please reach out to one of our three visitors centers.
Page is located in northern Arizona, just 10 miles south of the Utah border. For more perspective, you will find the City of Page 280 miles north of Phoenix and 270 miles east of Las Vegas.
Page, Arizona, is officially in the Mountain Time Zone (MST) year-round. Please keep in mind Arizona does not practice daylight saving time. Due to how close Page is to Utah and the Navajo Nation, your devices may switch between time zones automatically. It's best to set your devices to Phoenix, AZ, MST, to avoid this.
Where can I go for visitor information?
Page, Arizona, has three visitor centers. The Page Lake Powell Hub is located at 48 S. Lake Powell Blvd. and can be reached by calling (928) 608-5749. The Glen Canyon Conservancy is located at 12 N Lake Powell Blvd. and can be reached at (928) 640-3900. The Carl Hayden Visitor Center is located at US-89, Page, and can be reached at (928) 608-6072. Download our digital visitor guide for information on the go.
How far is Horseshoe Bend from Page?
Horseshoe Bend is 5 miles south of the Carl Hayden Visitor Center along Highway 89. The area is open from sunrise to sunset year-round. Entry fee starts at $10 per vehicle; cash and cards are accepted on weekdays, and cash only on holiday weekends. National Park and Federal Recreational Land passes are not accepted. Parking is available at the City of Page parking lot. Be aware that the City of Page may require all visitors to use a shuttle to visit once the parking lot is full during holidays and busy weekends.
Is there water in Lake Powell?
Yes. Due to fluctuating water levels, some amenities may be closed. For the most up-to-date details, visit the National Park Service.
Where can I launch my boat?
The lake levels fluctuate, so before you get to Lake Powell, review the latest information from the National Park Service, including fees, open or closed public launch ramps, services and location, regulations, safety, when to plan your excursion, and more.
How do I get to Rainbow Bridge?
Due to changing lake levels, access to Rainbow Bridge may be limited. Review the latest information from the National Park Service if you are planning to visit, including fees, open or closed public launch ramps, services and location, regulations, safety, when to plan your excursion, and more. You can approach Rainbow Bridge via Lake Powell at your own risk, opt for a boat tour with Lake Powell Resorts & Marina, or hike through the Navajo Nation to the monument with a backcountry permit.
Where do I apply for a permit to The Wave?
You can visit Recreation.gov to apply to the daily or advanced lottery to visit the Coyote Buttes North, where the famous Wave is located. You can also enter the Coyote Buttes South daily lottery form on this webpage.
What should I pack when I visit Page?
Safety and comfort should be top of mind when packing to visit Page, Arizona. Comfortable closed-toed hiking shoes are recommended year-round while outdoors. During summer, temperatures can reach over 100F. We suggest packing light clothing and sun protection such as sunscreen, sunglasses, a hat, and an umbrella. Always carry a liter (or more) of water per person while outdoors. Page occasionally receives a few centimeters of snow in winter, so bring a few extra layers to stay warm. Scarves, gloves, and warm hats are highly recommended.
How far in advance should I book my slot canyon tour?
Depending on the tour's popularity, tickets can sell out weeks in advance, so we recommend you book your tour as early as possible, at a minimum, at least one month in advance.
Antelope Canyon tours are sold out; what now?
Several slot canyons surrounding Page are connected to Antelope Canyon channel and offer similar views. Check out these tour companies offering beautiful slot canyon tours.
We've seen Horseshoe Bend and the slot canyon. What else can we do today?
Page is the center of adventure and offers many outdoor activities, from hikes to ATV tours, and the downtown offers shopping and dining at locally owned restaurants. Explore our things to do, places to go, and dining for inspiration.
The dam is closed to the public. However, you can explore the Carl Hayden Visitor Center at Glen Canyon Dam, located off Highway 89 on the west side of Glen Canyon Dam. You'll find exhibits inside the center, including a relief map of the entire Glen Canyon area and information kiosks, plus maps, restrooms, souvenirs, and a bookstore. The center is open from 9:00 a.m. to 5:00 p.m. 7 days a week. The center is closed on New Year's Day, Independence Day, Thanksgiving Day, and Christmas Day.
DIGITAL VISITOR GUIDE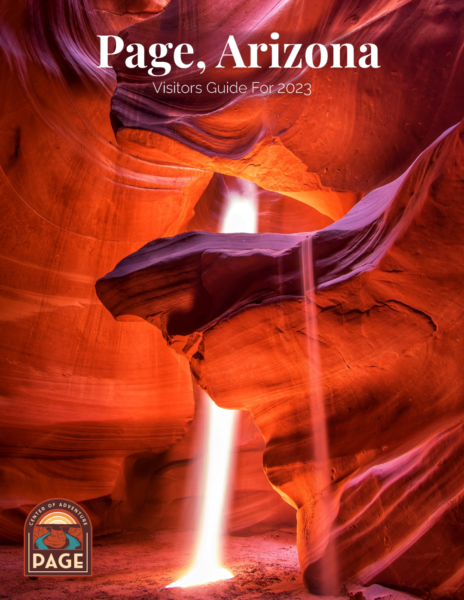 DIGITAL VISITOR GUIDE
Don't miss out on the ultimate guide to Page, Arizona! Our digital visitor guide is filled with insider tips, top attractions, and everything you need to know for a perfect vacation. Download now to discover the best of Page and start planning your adventure today!