Top 10 Things to Do in Page, AZ
There are so many things to do in Page, Arizona — a place where awe-inspiring wonder is sure to leave you speechless. From captivating slot canyons to thrilling trails and landmarks along the majestic Colorado River, this destination offers an array of unique experiences that are not to be missed. Whether you're an outdoor enthusiast or a history buff, Page has something to offer everyone, promising a truly remarkable adventure.
1. Embark on a Guided Tour of Antelope Canyon
Immerse yourself in the mesmerizing beauty of Antelope Canyon, one of Page's natural wonders. Named after the antelope herds that once roamed the area, this enchanting canyon has been captivating visitors for years. Its towering walls and natural skylight make it one of the most photographed locations in the entire Southwest. The Upper Antelope Canyon, in particular, dazzles with its vibrant display of colors created by the sun's rays filtering through the narrow slots, particularly from March through October. However, the Lower Antelope Canyon is no less spectacular with its intricate patterns and picturesque landscapes. The canyons are located on Navajo Nation land, so booking a tour is essential. Luckily, numerous tour options are available.
2. Witness Stunning Views at Horseshoe Bend
Situated off US Highway 89 lies the iconic Horseshoe Bend, a remarkable landmark within the Glen Canyon National Recreation Area. This natural wonder showcases a distinctive horseshoe-shaped curve formed by the relentless force of the Colorado River. Embark on a 1.5-mile hike to reach the overlook, where a breathtaking view awaits. The spectacular sight extends as far as the eye can see, leaving an indelible mark on your memory. For an even more unforgettable experience, consider booking a rafting tour that winds around the Horseshoe Bend loop. Although there is an entrance fee, $5 for motorcycles, $10 for passenger vehicles, and other varying prices for larger vehicles, it is definitely worth the small price paid. The best part? Horseshoe Bend now has a trail that is accessible to all, including those with disabilities, ensuring everyone can partake in the magic.
3. Learn the History of Glen Canyon Dam
Prepare to be amazed by the towering presence of the Glen Canyon Dam, standing tall at an impressive 710 feet. This engineering marvel plays a vital role in providing water reserves for multiple states such as Wyoming, Utah, Colorado, New Mexico, Arizona, Nevada, and Nebraska. In times of drought, the water held within the dam is vital to sustaining life. However, its significance reaches far beyond practicality, as it stands as a testament to human ingenuity and determination. Due to being constructed in an incredibly remote and inaccessible location, the Glen Canyon Dam has become one of the United States' most remarkable achievements. Although touring this location is closed through 2023, make sure to check the Glen Canyon Conservancy or the National Parks Service websites for updates.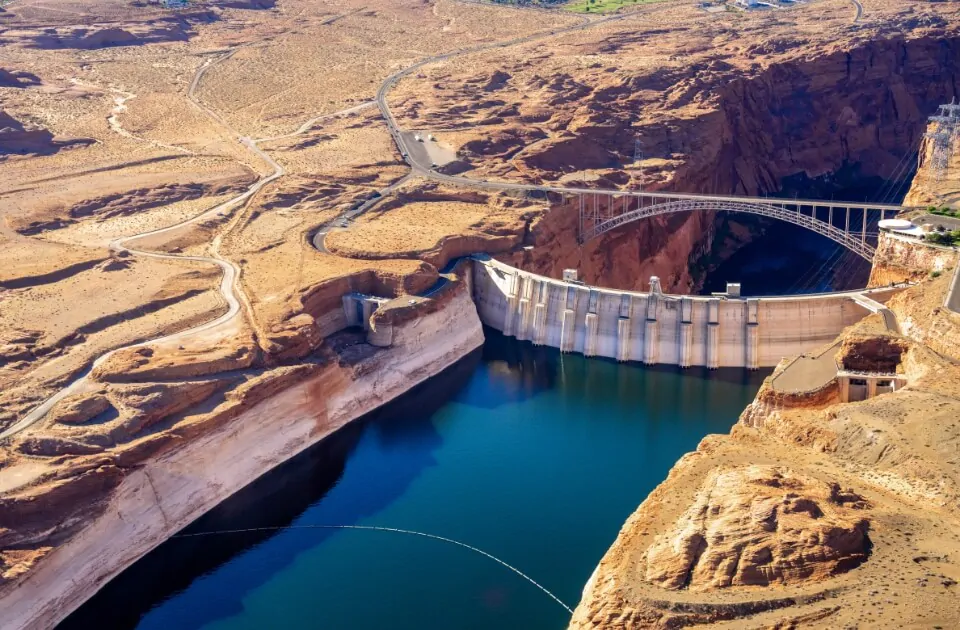 4. Journey to the Majestic Rainbow Bridge National Monument
Embark on a 50-mile cruise down Lake Powell, followed by a 1-mile hike to witness the magnificent Rainbow Bridge. As one of the largest natural bridges in the world, this striking structure holds deep spiritual significance for various Native American tribes, including the Navajo, Hopi, and White Mesa Ute. Believed to symbolize the spirits responsible for rainbows, clouds, and the desert's life, Rainbow Bridge is a place meant to be honored and held in reverence. As a result, it is important to approach this sacred sight with mindfulness and appreciation of its cultural significance. Recent years have presented challenges with low water levels hindering boat docking and making the journey much more demanding. However, despite the need for caution, the visit is undeniably worthwhile, offering a truly extraordinary experience.
5. Explore the wonders of The Wave
Connect with the beauty of nature in the 280,000-acre remote, untouched marvel that is Vermilion Cliffs National Monument. One of the highlights of the Vermillion Cliffs is Coyote Buttes North, popularly known as The Wave, a stunning rock formation adorned with swirling hues of terracotta and alabaster. In order to witness these views, you must journey on a difficult 6.4 mile round trip hike, but once you reach the end, you will not be disappointed. The Paria Canyon is another must-see spot on your travels through Vermillion Cliffs. Spend days backpacking through the rugged slopes and canyons as you take in the sights and sounds of the desert wilderness. As you traverse the trails, keep your eyes peeled for ancient dinosaur tracks and the once-extinct California Condor, whose reintroduction to the wild has been a triumph of conservation efforts. In order to have these one-of-a-kind experiences, you must obtain a permit. The Wave's permit system is a lottery so be sure to apply early through the Recreation.gov website. Day and overnight permits are available to explore the Paria Canyon area. Visit the Bureau of Land Management website for more information.
6. Explore the Hidden Gem: Waterhole Canyon
Hidden just five miles south of Page lies its best-kept secret – Waterhole Canyon. Similar in beauty to the infamous Antelope Canyon, this slot canyon boasts brilliant interplays of light and countless photographic opportunities. However, its lesser-known status makes it a perfect sport for someone looking to escape the crowds. Since 2018, independent hikes have been restricted, making the booking of a guided tour necessary. Among the most popular touring companies is the Waterhole Canyon Experience, a Navajo family-owned and operated enterprise that adheres to all Navajo Nation Parks and Recreation policies and offers three touring experiences. With their expert guidance, immerse yourself in the beauty of this hidden gem that is perfect for both hikers and photographers alike.
7. Dive into Adventure at Lee's Ferry
Once a vital launching point for settlers in the Arizona region, Lee's Ferry now serves as a recreation spot for adventurers seeking the thrill of the great outdoors. Indulge in a variety of water activities by the banks of the Colorado River. Whether you prefer boating, kayaking, or casting your line for a chance at reeling in a prized catch, Lee's Ferry offers it all. With two convenient launch ramps, a gravel ramp for downstream and a paved ramp for upstream, loading and unloading become a breeze. In addition, this area of the Colorado River is a perfect spot for fishing as it is a blue-ribbon trout fishery and is home to rainbow trout, brown trout, and other varieties of fish. If water activities aren't your thing, fear not, as Lee's Ferry boasts various hiking trails catering to hikers of varying skill levels. Extend your stay by camping at one of the accommodations nearby, such as the Lee's Ferry Campground, the Lee's Ferry Lodge at Vermilion Cliffs, or the Cliff Dwellers Lodge.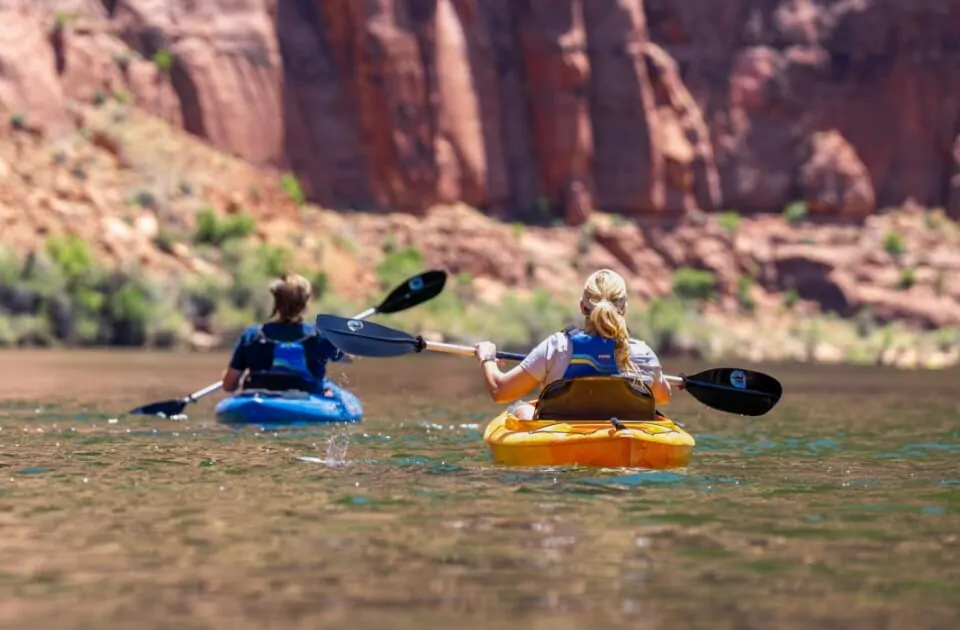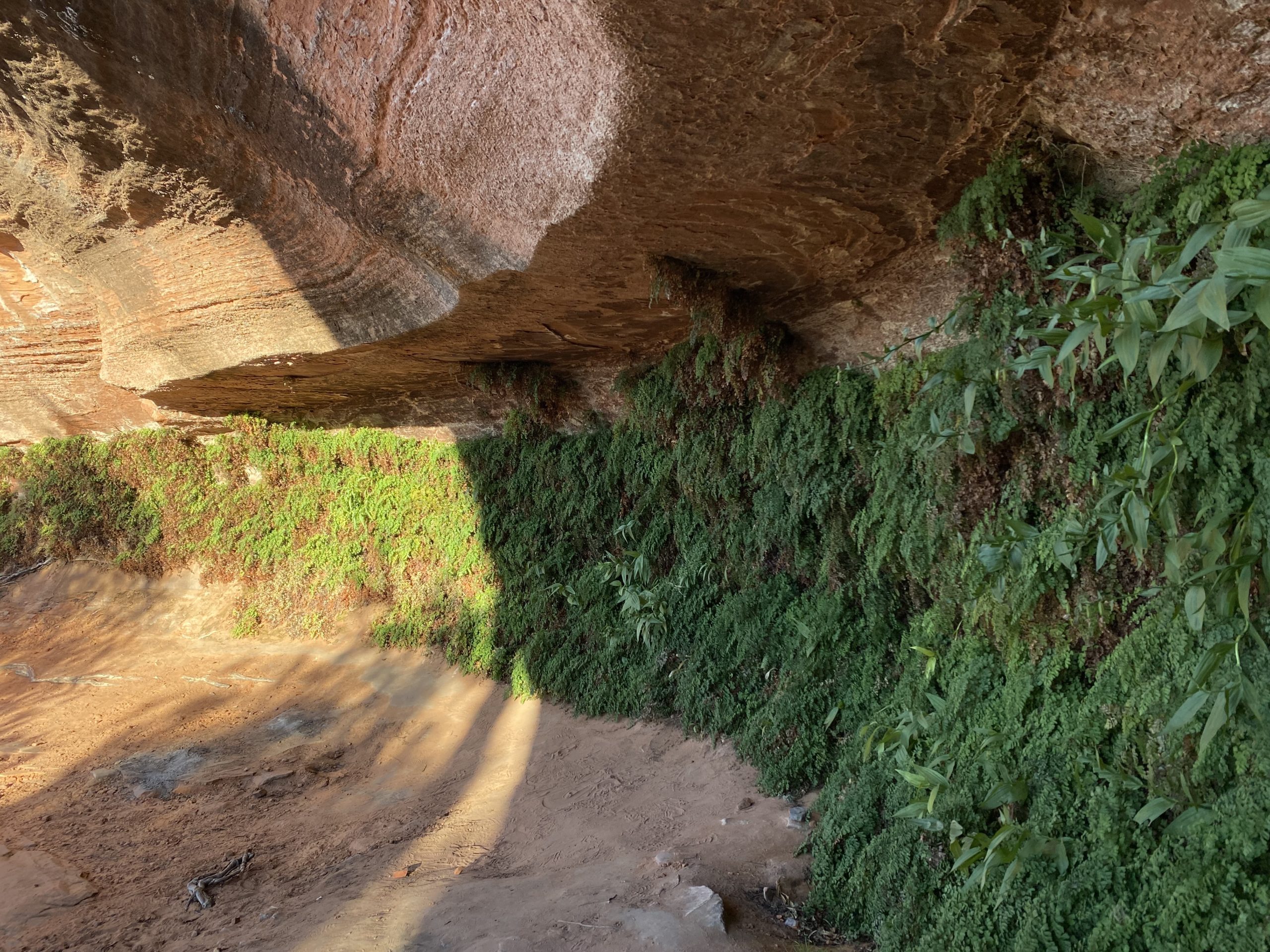 8. Hike to the Oasis on the Hangings Garden Trail
For a scenic and easily accessible hike, the Hanging Gardens Trail in Page, Arizona, is an absolute must-visit. This family-friendly trail invites you to bask in the area's natural beauty, providing a delightful day out for all ages. Embark on an easy-to-moderate 1.5-mile hike as you take in the desert landscape. As you reach the trail's end, a hidden oasis reveals itself—the Hanging Gardens—a lush collection of greenery thriving amidst the arid desert. These vibrant gardens owe their existence to the surrounding streams and springs, which trickle through the porous cracks of the Navajo Sandstone formations, sustaining an array of plant and animal life. From ferns and lilies to possible aquatic, avian, and amphibian species, the area teems with delicate ecosystems. As you explore, tread carefully, ensuring these wonders remain untouched for future generations to enjoy.
9. Experience Water Activities at Lake Powell
Escape the desert heat and immerse yourself in the refreshing waters of Lake Powell. A mere 12 miles north of Page, Arizona, Lone Rock Beach beckons as a popular recreation area on the lake. This beach offers the perfect retreat for camping and various water activities along the lake's pristine shoreline. Wake up to the soothing sounds of nature before enjoying your day out on the water. Things to do around the Lake Powell area include spending leisurely hours swimming in the cool, sapphire waters, embarking on a boat or kayak adventure (note: there is no launch ramp), or simply savoring the company of fellow campers as you sit by the water's edge. Lone Rock Beach also provides a designated area for ATV vehicle usage, ensuring an unforgettable and inclusive experience for the entire family.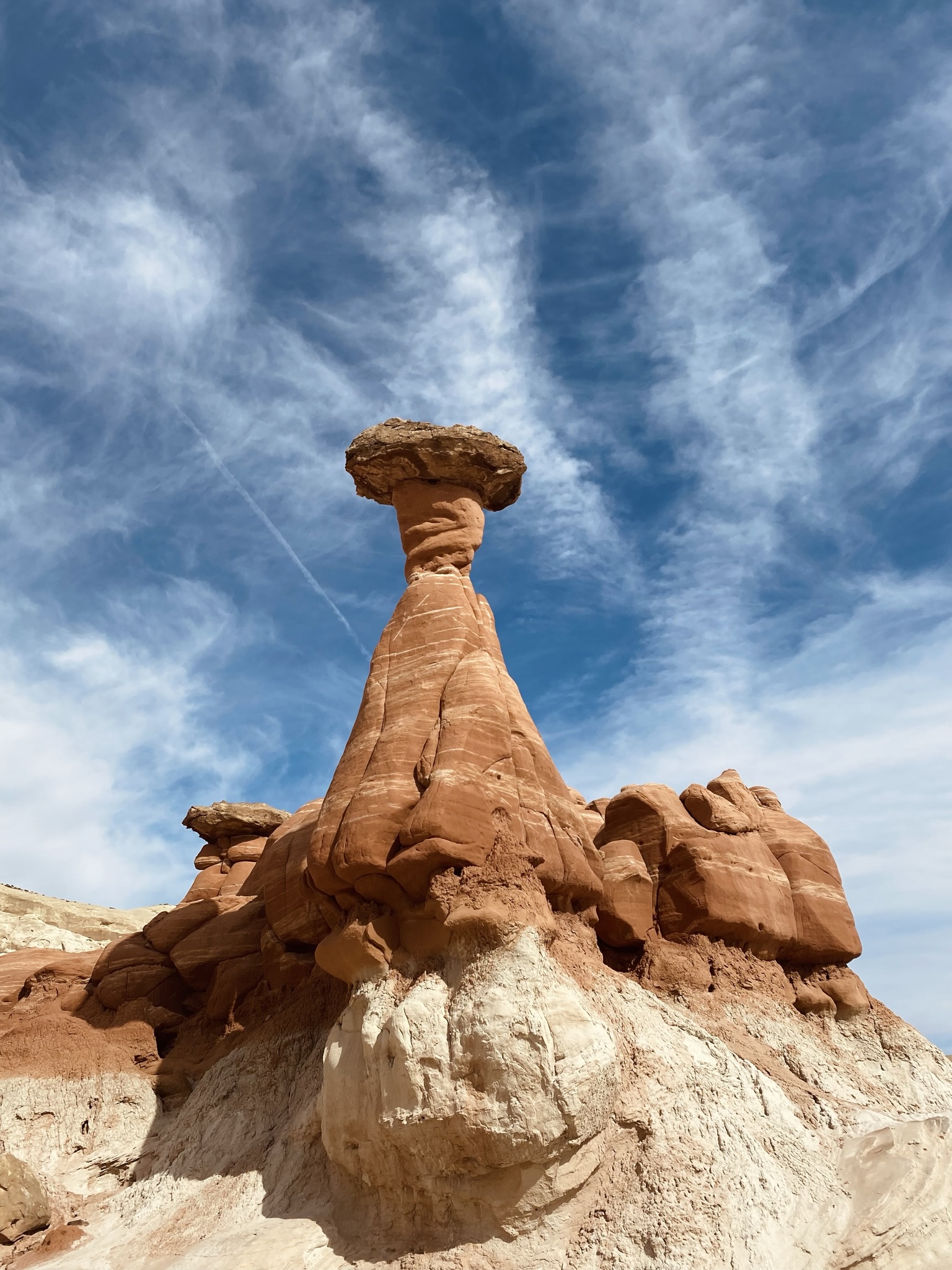 10. Discover the Grand Staircase-Escalante National Monument
Prepare to be enraptured by the wonders of the Grand-Staircase Escalante National Monument, a true treasure among Page's offerings. Designated as a national monument in 1996, this vast expanse of land spanning 1.7 million acres is a testament to nature's grandeur.
Divided into three sections — the Escalante Canyon, the Kaiparowits Plateau, and the Grand Staircase — it offers diverse attractions and activities. The Escalante Canyons area is popular amongst hikers with its abundance of trails, including the Dry Fork Narrows leading to captivating slot canyons such as Peek-a-boo and Spooky Gulch. Cascading waterfalls like the Upper and Lower Calf Creek Falls add to the allure of Escalante Canyon. Meanwhile, the Kaiparowits Plateau lures adventurers with its lush juniper and pinyon trees, towering heights, and challenging terrain. This area also features sedimentary rocks that preserve the relics of ancient life from as far back as 30 million years ago. Finally, the remote Grand Staircase region is sprawling with an abundance of slot canyons and unforgettable views. Don't forget to explore other popular spots within the monument, such as Grosvenor Arch and Devil's Garden, before bidding farewell to this extraordinary destination.
Bonus: Travel Back in Time at the John Wesley Powell Museum
Discover the history and geography of the American West at the John Wesley Powell River History Museum. Named after the fearless one-armed explorer of the late 1800s, this museum offers a wealth of exhibits dedicated to river history and sculptures commemorating Powell's daring expeditions. Immerse yourself in the past with detailed maps, photographs, and a fascinating dinosaur exhibit. Step outside to the outdoor pavilion, where you can enjoy a picnic while overlooking the Green River and its mesmerizing landscape. Let the museum's treasures and the natural beauty that surrounds it transport you to a bygone era and deepen your connection to the remarkable stories of the West.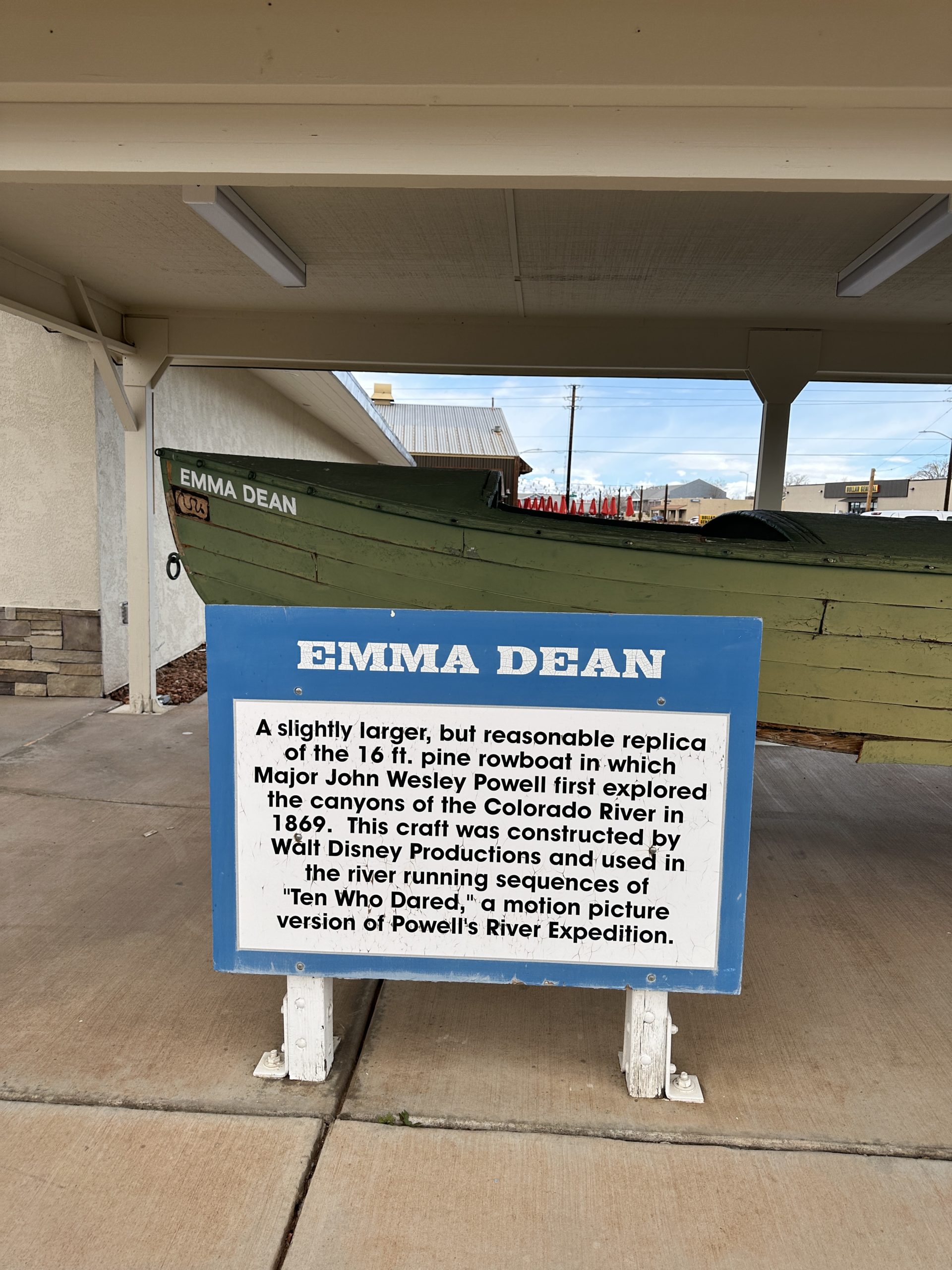 Explore More