Where to Take Engagement Photos in
Page, Arizona
With breathtaking landscapes, unique geological formations, stunning vistas, and year-round sunny weather, Page is a dream come true for breathtaking outdoor engagement photos.
Horseshoe Bend
Whether you prefer a romantic, intimate session or a grand, dramatic shoot, Horseshoe Bend offers the ideal setting. The golden hour light that bathes the area during sunrise and sunset adds to the magic and allure of the location. Taking engagement photos at Horseshoe Bend is a great way to capture the love and excitement of this special time in your life in a truly unforgettable setting.
Skylight Arch
Whether you're looking for a dramatic and moody vibe or a bright and colorful feel, the natural sandstone arch at Skylight Arch, also referred to as the "Portal to the Sky," provides a breathtaking backdrop for your treasured photos. The arch itself is a work of art, with its intricate patterns and curves carved by wind and water over millions of years. Plus, it's a relatively unknown spot, so your photos are sure to stand out from the crowd.
Private Slot Canyon Tour
Slot canyons offer a unique and stunning backdrop for your engagement photos with their colorful, twisting walls and beautiful light play. When you book a private slot canyon tour, you'll have the opportunity to explore and photograph lesser-known canyons that are not open to the public. Your tour guide can help you find the perfect spots for photos and provide expert guidance on capturing the best angles and lighting.
DIGITAL VISITOR GUIDE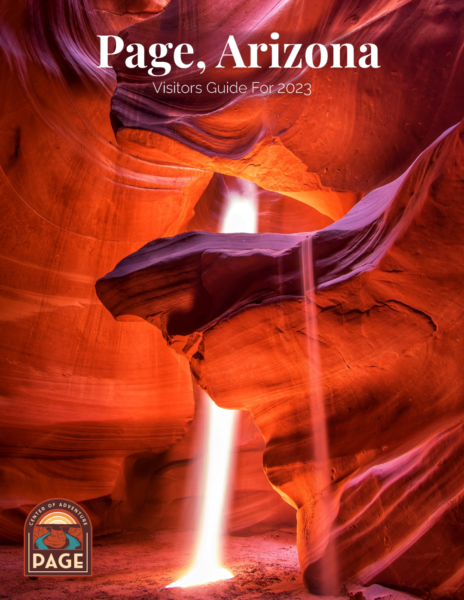 DIGITAL VISITOR GUIDE
Don't miss out on the ultimate guide to Page, Arizona! Our digital visitor guide is filled with insider tips, top attractions, and everything you need to know for a perfect vacation. Download now to discover the best of Page and start planning your adventure today!
Explore More